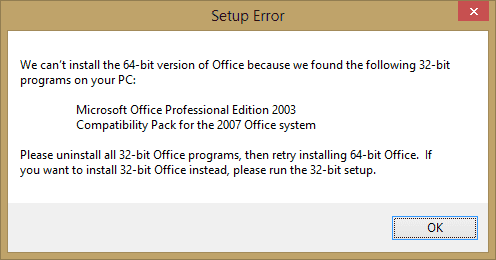 Masalah ini biasanya terjadi saat kita mau menginstall ulang Microsoft office di PC maupun laptop kita, Namun data yang masih tersimpan dan tidak ikut terhapus saat uninstall menjadi masalah utama error diatas. Oleh karena itu kita perlu menghapus data-data yang bisa dibilang cache atau biasaya ini sisa-sisa file korup hasil registrasi.
Salah satu cara adalah mendownload program yang telah disediakan oleh microsoft untuk menghapus data-data seperti :
Corrupted registry keys on 64-bit operating systems
Corrupted registry keys that control the update data
Problems that prevent new programs from being installed
Problems that prevent existing programs from being completely uninstalled or updated
Problems that block you from uninstalling a program through Add or Remove Programs (or Programs and Features) in Control Panel
Cara menggunakan
Download programnya lalu buka
Tunggu troubleshoot berjalan, lalu cari Microsoft Office professional plus 2010 (opsional)
Pilih uninstall
Selesai
Download file :
DISINI
Sekian yang dapat saya share, semoga bermanfaat :)
Download Juga :
---
*Untuk download di pintukos, hindari menggunakan UCbrowser, karena bisa jadi link download bisa error.